KARAKTERISTIK SPASIOTEMPORAL ANGIN KENCANG DI PULAU SULAWESI BERBASIS MODEL REANALISIS ERA5
Keywords:
angin kencang; ERA5; REOF
Abstract
Pola spasiotemporal angin kencang di Pulau Sulawesi dieksplorasi dalam tulisan ini menggunakan data reanalisis ERA5 periode 1979-2020. Metode yang digunakan adalah roteted empirical orthogonal function (REOF) dan fourier harmonik. Hasil yang didapatkan adalah bahwa frekuensi dan magnitudo kecepatan angin terbesar berada di Sulawesi Selatan dan sebagian Sulawesi Tenggara dengan puncak di bulan Agustus dan Januari, pola dominan lainnya adalah di Sulawesi Utara dan Gorontalo dengan pola puncak yang sama yaitu Agustus dan Januari dan di pegunungan tengah Sulawesi dengan puncak pada bulan Januari.
Downloads
Download data is not yet available.
References
Ahrens;, C. D., & Henson, R. (2014). Meteorology today?: an introduction to weather, climate, and the environment. Cengage.
Alifdini, I. (2021). Seasonal distribution and variability of surface winds in the Indonesian seas using scatterometer and reanalysis data. July 2020, 1–19. https://doi.org/10.1002/joc.7101
Amin Nur Syafitri, Maru, R., & Invanni, I. (2021). Analisis Tingkat Bahaya Bencana Angin Puting Beliung Berbasis Sistem Informasi Geografis di Kabupaten Sidenreng Rappang. Jurnal Environmental Science, 3(April). ojs.unm.ac.id/JES
BNPB. (2020). IRBI Indeks Risiko Bencana Indonesia Tahun 2020. BNPB.
BPS. (2021). Hasil Sensus Penduduk 2020. Berita Resmi Statistik, 7, 1–12.
Crowe, P. . R. . (1951). Wind and Weather in the Equatorial. Institute of British Geographers Transactions, 17(17), 23–76.
Dommenget, D. (2015). An Introduction to Statistical Analysis in Climate.
Gjeta, A., Malka, L., Hasanaj, A., & Alcani, M. (2020). The wind gusts effects on human body based on cfd simulations. 142(4), 138–142.
Hemingway, R. (2020). Developing a hazard-impact model to support impact-based forecasts and warnings?: The Vehicle OverTurning ( VOT ) Model. January. https://doi.org/10.1002/met.1819
Hilmi, I., Ningsih, N. S., Sofian, I., Hanifah, F., & Rizal, A. M. (2018). The study of MJO impact on wave height and wind speed in Indonesian Seas. https://doi.org/10.1088/1755-1315/162/1/012004
Murlina, E. (2013). PREDIKSI PUTING BELIUNG DI KABUPATEN MAROS.
OKSTRIFIANI, N. (2013). PREDIKSI PUTING BELIUNG DI KABUPATEN TORAJA UTARA. UNIVERSITAS HASANUDDIN.
Sarli, P. W., Abdillah, M. R., & Sakti, A. D. (2020). Relationship between wind incidents and wind-induced damage toconstruction in West Java , Indonesia Relationship between wind incidents and wind-induced damage to construction in West Java , Indonesia. IOP Conf. Ser.: Earth Environ. Sci, November, 13. https://doi.org/10.1088/1755-1315/592/1/012001
Sulung, G., Priyanka, M., Saraswati, N., Nurfiena, S. P., & Ricardo, L. G. (2011). Pengaruh Parameterisasi Kumulus terhadap Simulasi Angin Kencang di Makassar dengan Menggunakan WRF.
Wilks, D. S. (2019). Statistical Methods in the Atmospheric Sciences. Elsevier Inc.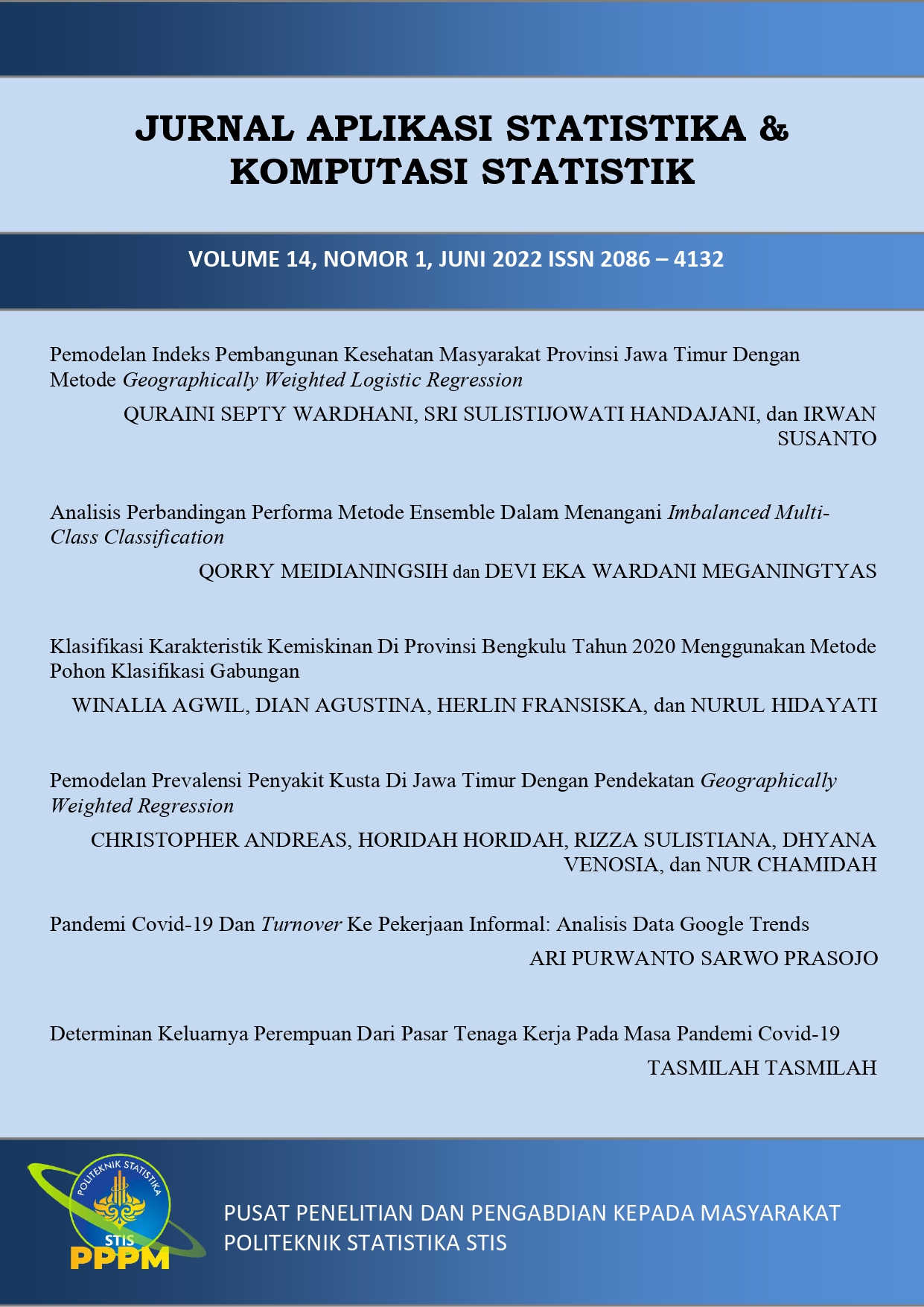 Downloads
How to Cite
Rais, A. F., Rezky Yunita, Hijrah Kule Musgamy, Rahmat Tauladani, & Ahmad Kosasih. (2023). KARAKTERISTIK SPASIOTEMPORAL ANGIN KENCANG DI PULAU SULAWESI BERBASIS MODEL REANALISIS ERA5. Jurnal Aplikasi Statistika & Komputasi Statistik, 15(1), 85–89. Retrieved from https://jurnal.stis.ac.id/index.php/jurnalasks/article/view/436
Section
Statistika Kependudukan